Cage Warriors Academy South East 22 Preview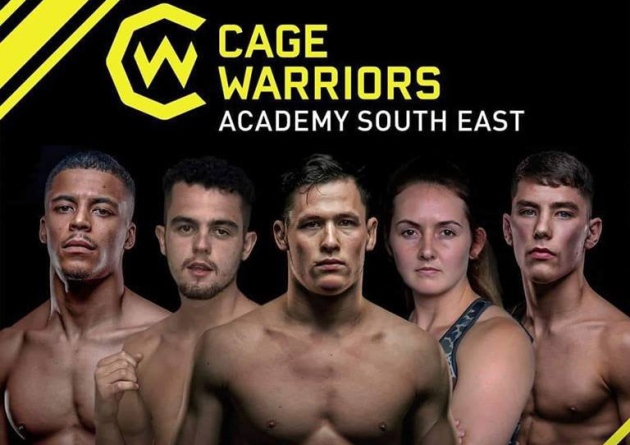 Cage Warriors Academy South East Preview: Seven titles on the line as the best in Europe do battle
Some of the best amateur MMA talent in Europe will do battle in Colchester this weekend. MARK HEATH previews Cage Warriors Academy South East.
Ollie Sarwa, right, fights for the bantamweight title in Colchester. Picture: BRETT KING
What, when and where?
The Cage Warriors Academy South East show will be held at Charter Hall in Colchester this Saturday, October 20. Doors open at 4.30pm, with the first fight at 5pm and main event around 10.45pm.
Formerly known as BCMMA, the promotion is known for featuring the best up-and-coming talent in Europe and offering great value for money – and this card is one of the best they've ever put on, boasting 28 cracking fights.
Tickets, costing £35, will be available on the door and – if you can't make it in person – MMA TV will be screening the action live.
Titles on the line?
Big time! No less than SEVEN belts will be disputed on Saturday, starting with Charlotte McKintyre facing Arziko Bregu for the vacant bantamweight belt.
Jon Vetle Furuheim faces Markus Haegland for the junior bantamweight title, while Gabriele Bartoni and Luke Trainer fight for the vacant light-heavyweight strap, before Stefano Morotti defends his featherweight crown against Hamza Hindy.
Jorgen Indsetviken puts his welterweight gold on the line against James Vandergheynst, John Parthaugen defends his bantamweight strap against Ollie Sarwa and, in the main event, George Tanasa and Nathan Phillpot go to war for lightweight glory.
Champ champs
In addition to the seven belts on the line, two fighters could become two weight champs on Saturday.
McKintyre is already the featherweight queen, and she's moving down ten pounds to see if she can claim a belt for her other shoulder.
Furuheim, already the junior flyweight champion, is going in the other direction, moving up a division in a bid to capture another title.
Grand Prix semi-finals
Oh yes, it's not just titles adding interest to the show. Colchester will also host four semi-finals in the Cage Warriors Amateur Grand Prix - an event designed to find the best amateur fighters in Europe across all weight classes.
Muhidin Abubakar faces Alex Boyd in the flyweight last four here, while Jamie Ward and Oban Elliot (welterweight) and Francesco Lo Galbo and Jack Eglin (bantamweight) do battle before Ismar Blagoje and Ashley Amos make a bid for the light-heavyweight finale in the co-main event.
All the finals will be contested at the spectacular Cage Warriors 100 show in Cardiff on December 8.
Main event
What a corker. 'Home' fighter George Tanasa, of Colchester's powerhouse BKK Fighters Gym, meets Nathan Philpott for the aforementioned lightweight title.
It's the first title bid for 23-year-old Tanasa (3-1), a European gold medallist at wrestling, and promoter Jack Mason, head coach at BKK, is tipping him for big things.
"He's an up-and-coming prospect who's going to be a superstar," Mason told me. "I'm looking forward to seeing him do the business – but he's got a tough fight!"
Co-main
If you're looking for fight of the night, look no further. Blagoje and Amos are both undefeated (4-0 and 2-0) and both will fancy their chances of reaching the Cardiff finale.
"That fight is going to be unbelievable," said Mason. "They're both unbeaten and both jiu-jitsu champions.
"That would be my tip for fight of the night."
Ipswich's Adam Spalding faces Phuong Tran at Cage Warriors Academy South East. Picture: MARC MOGGRIDGE
Ipswich interest
Suffolk scrapper Adam Spalding has had an up-and-down career in the cage so far. Having lost his first fight, the lightweight reeled off four straight wins, before dropping his last four bouts.
Now 4-5, the BKK Fighters product faces heavy-hitter Phuong Tran here, in what Mason hopes will prove to be a turning point clash.
"Adam's one of the hardest workers in the game," he said. "It's not quite clicked for him yet, but I'm hoping this is the one. I really want to see him do well – again though, he's got a tough fight against a guy who is going to try to take his head off."
One step from the big show
With the event now formally associated with Cage Warriors – the leading MMA promotion in Europe – every fighter on the card knows that they're not too far away from taking the step up.
"We've had so many people go from us to Cage Warriors, and the likes of Bellator too," said Mason. "It's basically the proving ground to go to the big show.
"It's going to be a great night – we've got the best in Europe here."